a conversation with Mya Swinton and Dylan Disu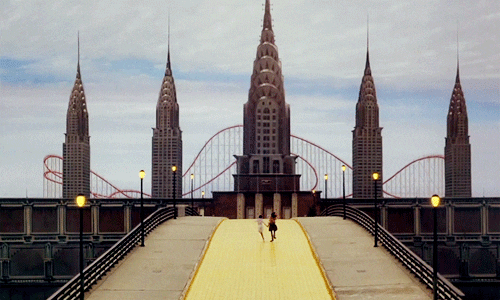 The Wiz Live! is a new adaption of The Wiz, a 1975 Broadway musical that utilized the talents of Black cast members to retell the classic Wizard of Oz story. Adapted for television in 2015 by NBC, The Wiz Live! recounts the story of Dorothy, Lion, Tinman, and Scarecrow along the yellow brick road to see The Wiz in Emerald City. Despite challenges along the way (THE EVIL WITCH OF THE WEST), Dorothy and her comrades eventually find their way and the items they need most in their lives. The production showcases many prominent actors and singers within the black community – Ne-Yo, Queen Latifah, Common, Amber Riley, and the QUEEN HERSELF Mary J. Blige (Mya's personal favorite!!!). Assembled with danceable production numbers, singable songs, and a star-studded cast, The Wiz Live! leaves audiences with a timeless production that will be cherished forever by the black community. 
On a warm April afternoon, Mya Swinton and Dylan Disu met via a zoom link to discuss The Wiz Live! and to analyze how it provoked a variety of responses about the representation of race within a musical production. Although this conversation would never take place outside of this class, Mya and Dylan both enjoyed meeting each other and exchanging views.
Some background before we begin…
Dylan Disu (DD) is a sophomore studying Human and Organizational Development from Texas. He is a student-athlete and plays men's basketball for Vanderbilt University. 
Mya Swinton (MS) is a freshman studying Human and Organizational Development from Florida. She is a student-athlete as well and plays for the women's soccer team at Vanderbilt University. 
Let's begin!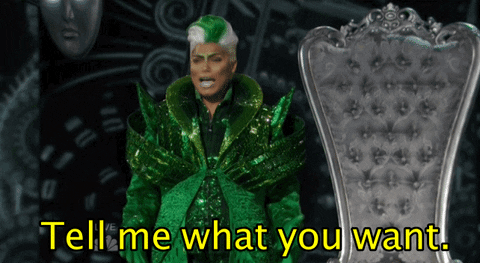 DD: Why was this production important to you?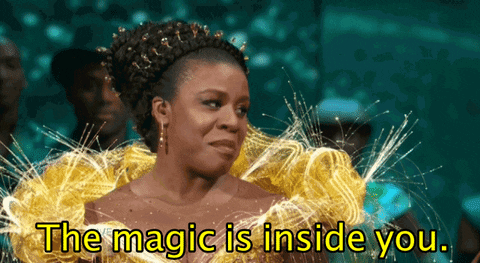 MS: Throughout this course we have not been exposed to many musical productions that have a significant amount of black people in them. I think it was really important that Dr. Essin provided us the opportunity to view The Wiz Live! because it allowed me to actually see someone that looked similar to me. Although Dorothy can be innocent at times, it's really cool to see her being a strong, bad-ass black woman when she needs to be. I love how encouraging she is, and how she steps up for people when they need her the most. Also, can we just take a moment to acknowledge that she killed two people in the span of 3 days. Anyways, I digress… Besides the movie musical Annie, I cannot really remember how many musical productions portray young, black female leads. That is really astonishing to me because we have such a large population of BLACK GIRLS who NEED to see themselves on television, movies, and other media outlets! Also, I just want to credit the producers of the musical because they decided to change the narrative on OZ's character. It was awesome seeing Queen Latifah's character (Mr. Oz) turn into a Ms. Oz, and I think it speaks to how women can play larger roles in big productions. I genuinely believe that representation matters and The Wiz Live! did a great job showcasing that.
DD: Yeah, I definitely agree with your point Mya. I am glad that you got to see yourself represented within this production. For me, I think what I enjoyed the most was how inclusive it was to the black community. Not only did it include cast members that I know of – Ne-Yo and Amber Riley – but even cast members that pertained to older audiences- Common, Queen Latifah, and Mary J. Blige. The main reason this production will be remembered is due to the solidification of black excellence and culture through its cast members. This cast really exemplified what it means to be black, and I think that is the most important thing here. 
DD: What I really want to know is which production number was your favorite and why?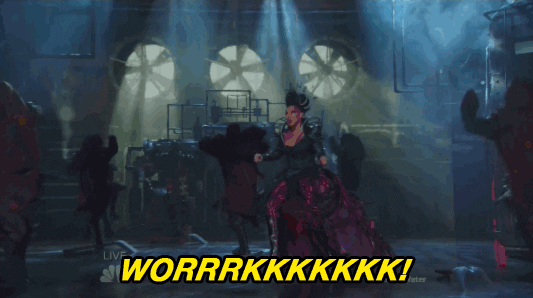 MS: One thing that I really enjoyed throughout this musical was the musicality of the songs. The songs really emphasized black music, especially gospel, blues, R&B, and soul. So, as a die-hard Mary J. Blige fan, I was ecstatic to see that one of America's GREATEST R&B artists was chosen to play the role of The Wicked Witch of the West and would be singing the number "Don't Nobody Give Me No Bad News". This musical number was honestly my favorite because 1) it was hypocritical of her character, 2) it incorporated the basics of gospel music, and 3) it included Mary J. Blige (duh). In response to the hypocritical nature of her character, I think it was intentional of the lyricists because The Wicked Witch of the West usually is the bearer of bad news for the citizens of Oz. Secondly, I enjoyed the number because it used the classic "call and response" used in gospel churches and choirs. For example, after Blige sings "No bad news" in the chorus (call), the background singers sing it back (response). The song also relies heavily on gospel rhythms as well. It provides a tempo that is fast-paced, simple to clap with, and repetitive, creating the perfect mixture that you will definitely be humming/dancing along to. Lastly, Mary J. Blige kills any performance she does, therefore cementing my case in point.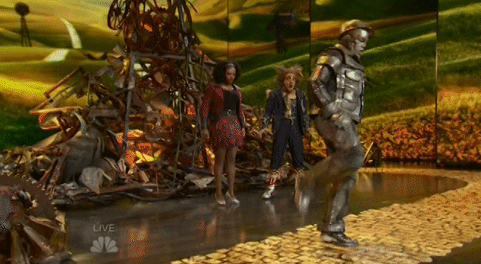 DD: Wow. Your love for Mary J. Blige is weird. Anyways, I would actually have to disagree that "Don't Nobody Give Me No Bad News" is the best production number. I think that "Ease On Down the Road" is a better production number because it is the most relied on for the characters throughout their journey to Emerald City. I think it can be classified as a rally cry for the characters in this musical as well. The lyrics throughout the entire song captures what it means to continue fighting even when times are tough. I think most people in general would agree with the overall theme of the song, thus allowing it to be universal and most memorable. Although I agree that Mary J. Blige is an iconic singer, I think that the overall message in this song trumps her any day.
DD: What did you think of the dialogue in this production?
MS: I actually found the dialogue in this production amazing but not because of what they were saying instead, how they were saying it. I loved the use of AAVE in this production and I know it is something that is small and may be unnoticeable to some but those who use it easily recognize it. Phrases like "don't nobody bring me no bad news" or "mean ole lion" are sprinkled throughout the production and give a fresh new take on what dialogue can be in the theater. Typically Broadway and the theater world is a space that is predominately white and because of this they cater to this demographic. Meaning, there really is no need to use AAVE or include elements from other cultures and races because they are not watching. I think that if they continued this trend of uplifting black voices the audience will definitely grow and become more diverse.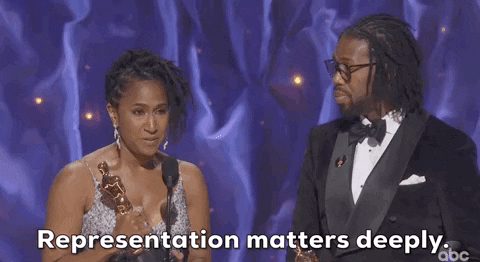 DD: I agree and I was hoping you picked up on it. I think the use of AAVE in the production was extremely bold of the writers because it is not something we have ever seen in theater. Other than in past adaptations of The Wiz AAVE is not something that has had a place outside of the African American community. Although it has been in movies I think the reason is due to a much more diverse audience than you see on Broadway. Personally, I think the lack of black stories and diversity you talked about when discussing demographics is done to try and prevent others from entering this space that is dominated by white people. That's why the use of AAVE in the production was so important because it highlighted black voices and what they really sound like. It is such a small thing but it has a huge impact because it is representing Africans Americans and their language in a positive light rather than a negative one. It is so common that kids are told by teachers not to use AAVE in schools and to talk properly and by using AAVE in this production it lets black people and especially kids know it is okay to be yourself, you don't have to change in order to make it to this stage. 
MS: Yeah, that definitely makes sense and I agree with you about how AAVE is generally frowned upon in school and in the business world. This production was definitely a first step in normalizing not only AAVE but simply being yourself despite what others think. Were there any visual elements that stuck out to you in the production?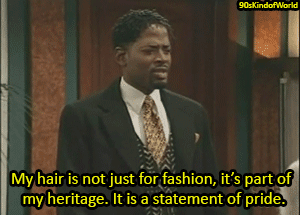 DD: Yes, and it caught my eye as soon as the play started and it was how Dorothy was wearing her hair naturally rather than permed/straightened. It is very unique to see African Americans wear their hair naturally in movies and theater because society has deemed it unprofessional. The only acceptable style is something along the lines of straight or wavy which is typically the natural texture of white people. I actually saw on Twitter a couple months back that a young black woman who played a large role in the series high school musical always wore headbands because they had no one on set who could do her hair which is crazy to me because it is not that hard to hire a black hair stylist. So seeing this character wear her natural curls on one of the biggest stages was a huge surprise since it is extremely uncommon.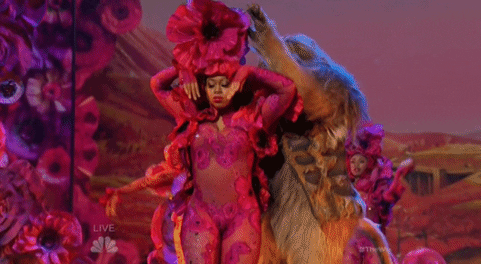 MS: I agree. I also noticed a ton of other styles in the production like the lion instead of having a crazy mane, he had dreadlocks going down his shoulders which is actually a really clever design if you ask me. You also have Glinda the good witch's crown of braided hair instead of a blonde wig that has been used in the past. And although it isn't hair you have the tin man wearing a fitted cap(a staple in the African American community) that is spray painted silver. I think the costume artist did a wonderful job of representing black style and hairstyles and putting them on full display for the audience to appreciate.
DD: Yeah, I think the hairstyles were just another example of this production creating a representation for young black children who do not see people who look like them onstage often. It lets them know that fairytales can include them too.
MS: Did you notice any differences in choreography for this production versus other productions we've seen this year?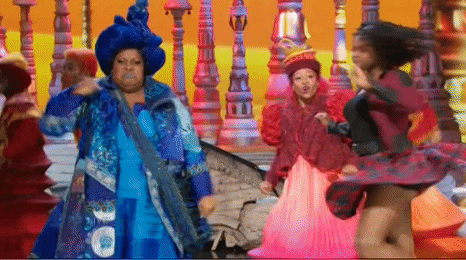 DD: This production's choreography was unlike any other we have seen to this point and it is not even close. Dancing is a huge part of black culture and this choreography team did an amazing job bringing this to the stage. In most other plays you have running and jumping and even tap dancing as the way of dance which to me is not really dance. However, The Wiz Live! does something completely new and fresh, they opted to go newschool and mix some moves that are trending on social media with the stage that is normally pretty vanilla.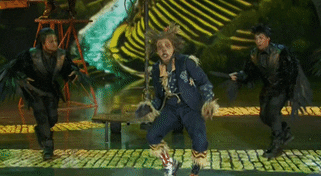 MS: I usually hate watching the choreography in plays because it's always so bland and boring but watching this production I genuinely loved the singing and dancing because it reminded me of a cookout where everyone is just having a good time and enjoying themselves. They had crows in the background doing the nae nae, munchkins hitting the quan, and even the tin man dabbed at one point. All of these dances were made popular by black creatives and it seems they are finally hitting the big stage where they can be appreciated by an even wider audience. I thought it was especially important for black creatives to get their shine because a lot of times black culture is just seen as a trend for others to hop on here and there when it benefits them. Or, like AAVE it begins to sound cool to white people and they begin to take over something they should not much like the last couple years. But, this is our culture and this is who we are, so it was nice to see black people doing black created dances on a stage that was meant to keep them out of the spotlight.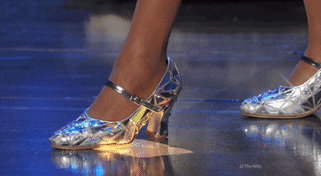 DD: I think these are all great points you are making about the nature of culture more specifically, black culture, being co-opted by other groups which is why I thought this production was an amazing show of black excellence put on by black people. However, I am not sure if we are going to see a whole lot more of this because a lot of people were not happy with an all black cast taking over their space and I think this could cause people to push back against diversity in the theater. I hope that we can continue to see powerful black shows in the future but I think it is going to be tough to see something as black as this production was again.
______
Overall, the conversation between Mya and Dylan enabled them to look further into the importance of race in musical theater productions and also provided them the opportunity to bond over their shared interest in black excellence in media.