Who writes the words and music

for all the girly shows?

No one cares and no one knows.

Who is the handsome hero

some villain always frames?

But who cares if there's a plot or not

if they've got a lot of dames?
These lyrics come from the song "Dames" from the musical 42nd Street. With playful music draped over them, you might interpret these sleazy lyrics as satirical, honest, or even critical. But the 2017 West End revival of 42nd Street is none of these. From Hamilton to Newsies, it plainly states the political mission of many musicals: to distract viewers from bad politics with song and dance.
The show's "handsome heroes" sing the above lyrics, suggesting that "Dames" is a man-to-man conversation. One could argue that director Mark Bramble, choreographer Randy Skinner, lyricists Al Dubin and Johnny Mercer, and composer Harry Warren are poking fun at "unsophisticated" Broadway conventions. But the next section of the song continues:
What cute about a little cutie?

It's her beauty, not brains!

Old father time will never harm you

if your charm still remains!

After you've grown old baby

you don't have to be a cold baby.

Keep young and beautiful

[Chorus] Oh yes!

It's your duty to be beautiful

[Chorus] Oh yes!

Keep young and beautiful

If you want to be loved.

[Chorus] Oh yes! Oh yes, oh yes, oh yes!
Even though women sing these lines on stage, men wrote, set to music to, and choreographed them, making women sing them in nude leotards. Underneath the playful musical exterior is a clear, patriarchal message: only girls beautiful enough for Broadway get to find love. The number then features a dance break, where the countless, nameless chorus girls, costumed to look naked, dance for the spectator's male viewing pleasure. These women are cute, dainty, basically naked, and most importantly, nameless, so that audiences don't have to think too hard about whether or not they should take one home tonight.
The song ends with the triumph of Broadway spectacle. The orchestra plays a fanfare as the beautiful, nameless dames parade around stage wearing extravagant dresses and accompanied by tuxedoed heroes. The music reaches a victorious crescendo as the leading lady, dressed in brilliant white, graces center stage like Venus in the jaws of a shark. Therefore "Dames" is not satirical because it does exactly what it pretends to make fun of: sexualizing unnamed chorus girls. And this is not an accident; it's the result of a long list of decisions made by men to exploit young women for profit.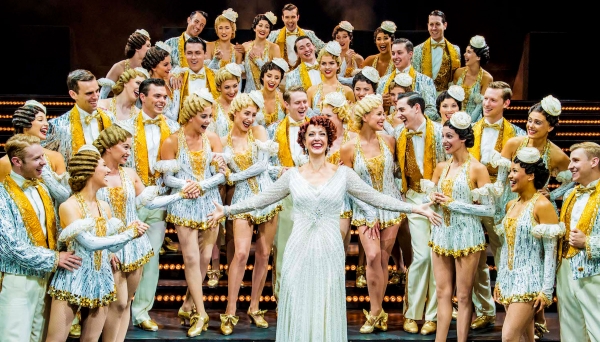 A musical that celebrates the history of Broadway, 42nd Street puts its female performers on a pedestal without stopping to think about the bigger picture. The antifeminist overtones of "Dames" carry through the rest of the show and the history of the stage on which it stands. 42nd Street asks the fundamental question: what is the point of a Broadway musical? The answer: dames!
But the song and dance do not cover up the monstrosity beneath. To leave the message and meaning out of the overall analysis of a production misses the point. For in 42nd Street, the costuming, choreography, music, set design, and writing objectify the female cast. It celebrates the trend that producers can reinforce whatever structures of evil they want, as long as they wrap it up in song and dance. Personally, I'm tired of illusions, and even more tired of settling for "fun" shows with abysmal politics. Instead of celebrating their roots, those who write American musicals need to take a good look at the past and realize that the present can be so much better.